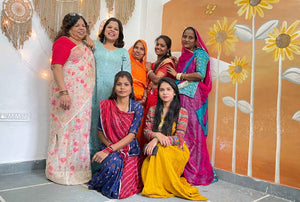 All-women team of Eddie Teddie & Co.
WE DON'T MEAN TO BRAG BUT......
★★★★★

Bought the moo-moo stuffed toy (brown) medium. Was the best purchase choice. I recommend buying toys from Eddie Teddie toys. 1. Its Indian made <3 and 2. Its better quality than any soft toys I have.

Maxo Print

on our Moo-moo!
★★★★★

The buying and delivery process is hassle-free. And the noodle is just so plush and cute. Couldn't be any better. Im going to line up orders for moo, ghost and hopefully all the toys.

Saurav Tripathy

on our Noodle!
★★★★★

I was worried that what I see might not be what I get,....And I am so glad I was wrong. I ordered a pride teddy for someone close and was so glad that I received a beautifully packed, amazing quality teddy bear within the committed time.

Sumati Arora

on our Rainbow Teddy
★★★★★

The soft toys I ordered for my little one were Ollie and Popsicle. Both of them are so soft and adorable. The finishing of the product is really good. The material used is very soft and furry. I look forward to shop more :)

Zaiba Zazwala

on our Oli & Popsicle!
★★★★★

I had an amazing shopping experience with Eddie Teddie & Company. There plushies are super soft and adorable.... I loved the Eggo one❤❤..and my nephew won't stop gushing over it...🤣... Thank you for such amazing and great quality products...

Sheetal Mohapatra

on our Eggo!